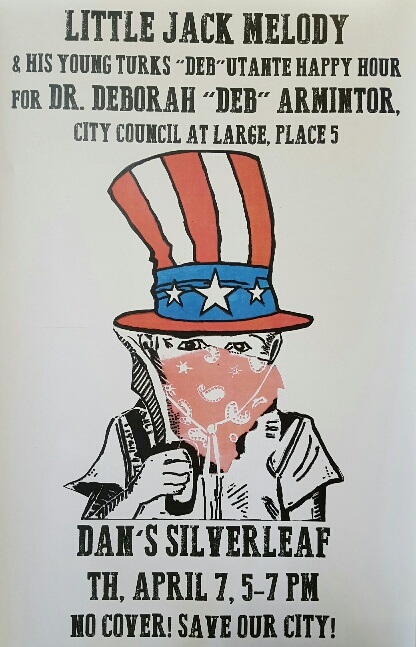 EXTRY EXTRY READ ALL ABOUT IT SPRINGTIME ARRIVES IN THE ONE STAR STATE AND LJM & HIS YOUNG TURKS RESPOND WITH MINOR BOUQUET OF FREE GIGS—JIM, THE THING OF IT IS IS IT'S SPRINGTIME!
Denton, TX, April 2, 2016
The good news is that there's more sunshine. And maybe some more rain. And probably some more wind. Those are facts, actualities, and metaphors too. Sunshine connotes clarity, rain connotes cleansing, wind connotes out goes the bad to make way for the good, whoosh-whoo. Maybe I'm reading too much into this. I will consult William Blake and get back to you. This will not be on the final.
But the good news is is that Little Jack Melody and his Young Turks have some springtime gigs coming up soon, the first breathing down all of our necks even as we speak. Without further:
Join us this coming Thursday, April 7, at Dan's Silverleaf in Denton. As the poster above will attest, it's an early gig, designed to shoehorn into Happy Hour, which is traditionally celebrated between 5 and 7 PM, of a given evening. On this occasion we'll be blessed w/ Brad Williams on keyboards, Dave Monsch on woodwinds, Simon Willats on tuba, and Norm "Chopper" Bergeron on trap kit, who's driving in, on this occasion, all the way to Denton from the redoubtable Hill Country of this One Star State.
But the good news is that this gig is a celebration of sorts for the candidacy of Dr. Deborah "Deb" Armintor, who's running for Denton City Council at large place 5. She's up against an incumbent, but the smart money is on Deb, who has a great platform of ideas for the city.
Honesty being what it is, the best policy?, the best novelty?, full disclosure being what it is, truth be told, Dr. Armintor has been a big fan of LJM et al for a good several years now, and she invited us to play this gig. It's not a fund-raiser, and "consciousness-raiser" packs too much gravitas, so the gig has been dubbed:
LITTLE JACK MELODY & HIS YOUNG TURKS
"DEB"UTANTE HAPPY HOUR FOR
DR. DEBORAH "DEB" ARMINTOR, CITY COUNCIL AT LARGE, PLACE 5
(oh yeah, there's a poster at the top of the page.)
And full disclosure, I'm a big fan of Deb Armintor. She's a tenured English Professor at UNT, mother of two, and has been a strong advocate for quality of life issues here in town for several years now. To borrow some official verbiage, she stands for cleaner government, cleaner air, smarter growth, and smarter spending. You can find out more here: http://www.debfordenton.com/
And Deb herself will be at the gig, and you can meet her. LJM will be playing two sets, taking a short break in between them, during which 15 minutes of speechifying will occur. In a good way.
And Dan's website is here: http://danssilverleaf.com/
And there's no cover charge! Free event!
And then the other good news is that we'll be playing the Denton Arts and Jazz Festival this year, and that gig will be happening on Sunday, May 1, Courtyard Stage, at 4:30 PM. You can count on seeing Arjuna Contreras on drums, Brad Williams on keyboards, Dave Monsch on woodwinds, and someone, as yet to be determined, on low frequencies, tuba?, bass?, the jury is out, the offers are out, anxious operators are sitting by the phones and monitoring emails, and me. Awkward, minus 10.
We'll be having sunny weather, moderate temperatures, a whispered blush of breeze, 37% humidity, with a 0% chance of precipitation. Believe me. We hope to see you one and all there as well.
Festival website is here: http://www.dentonjazzfest.com/
Schedule here: http://www.dentonjazzfest.com/stages/stages.shtml
And there's no cover charge! Another free event!
Come see us.
Best regards, happy everything to all,
LITTLE JACK MELODY
Denton, Texas
ljmelody@verizon.net
https://twitter.com/LJackMelody