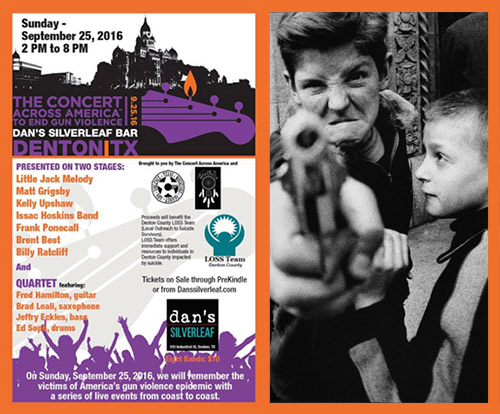 LITTLE JACK MELODY AND HIS YOUNG TURKS GET ON BOARD WITH DENTON EDITION OF THE CONCERT ACROSS AMERICA TO END GUN VIOLENCE, SUNDAY, SEPTEMBER 25, AT 2:00 PM!
Dateline Denton, TX, 9/18//25—
My fellow Americans,
Hey, it's just me, Little Jack Melody. We haven't talked in quite awhile, but it's time to act, so let the typing begin.
I've asked you all here today to let you know about this upcoming gig, the Denton, Texas edition of this nationwide event, The Concert Across America to End Gun Violence.
In short, here are the specs:
The Concert Across America to End Gun Violence
at Dan's Silverleaf, 103 Industrial, Denton, TX 76201
Sunday, September 25, 2016,
from 2:00 p.m. until 8:00 p.m.
(LJM will be playing at 2:00 p.m.)
Featuring Little Jack Melody and his Young Turks
Matt Grigsby
Kelly Upshaw
Isaac Hoskins Band
Frank Ponecall
Brent Best
Billy Ratcliff
and
Quartet, featuring:
Fred Hamilton, guitar
Brad Leali, saxophone
Jeffry Eckles, bass
Ed Soph, drums
Eight bands, $10
And then here's the official verbiage:
On Sunday, September 25, 2016, at Dan's Silver Leaf we will join The Concert Across America to End Gun Violence to remember the victims of America's gun violence epidemic.
Now is the time to turn up the music to turn down the hateful rhetoric that has become a hallmark of the gun debate. This is event is about using music to bring us together to remember and honor those who have died from gun violence.
In 2007, Congress designated September 25 as the National Day of Remembrance for Murder Victims. And while two out of every three victims are killed with a firearm, the day of "remembrance" is the only thing Congress has done to acknowledge this loss.
The Denton community is blessed with extremely talented musicians, and we are excited that some of the best will be at Dan's to join The Concert Across America to End Gun Violence. Concert Across America, http://concertacrossamerica.org, will coordinate a series of concerts nationwide as part of a national day of coming together to stop gun violence.
You can learn a lot more about the national events here: http://concertacrossamerica.org/
And more about the Denton gig here: https://www.facebook.com/events/1588953011403145/
And buy tickets here: http://www.prekindle.com/promo/id/24545708305976547
This is a great lineup of artists, and a great cause, and a great way to spend your Sunday. On this occasion, LJM himself will be joined by Brad Williams on keyboards, Dave Monsch on sax, Lynn Seaton on bass, and Dennis Durick, drums. This is a stellar roster of luminaries, and it's a lovely and humbling experience to have the chance to play with these guys, to hear them incarnate my music at a level I have no right to expect. Monstrously good, and I'm grateful.
Looking ahead just a bit, we'll be announcing the second annual LJM Salvation Army Style Christmas gig at Dan's shortly. Details to come soon. Early-ish December, and most likely it'll be a weeknight, and an early show.
Until we seeya soon, like Sunday 9/25 I hope, take care of yourself. Register to vote. And then do the smart thing.
Best to all,
hugs and kisses from Denton,
LITTLE JACK MELODY
http://littlejackmelody.com/
https://twitter.com/LJackMelody
http://danssilverleaf.com/