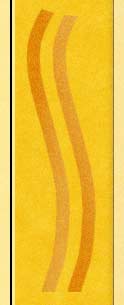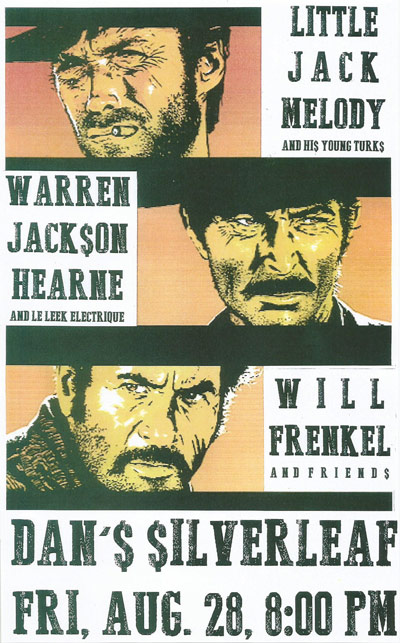 DATELINE DENTON, TX, 06/26/15:
LITTLE JACK MELODY WAXES ON AD INFINITUM ABOUT THE WETNESS OF WEATHER, BEFORE GETTING DOWN TO THE UPCOMING BUSINESS OF GIGS UPCOMING, DALLAS, FORT WORTH AND DENTON, AND ENCOURAGES ALL AND SUNDRY TO ATTEND, LISTEN,
HAVE FUN, AND BE THERE

One of the bards once keened, 'You don't need a weatherman to know which way the wind blows,' and he was right. Paraphrasing that wizened prognosticator, this yours truly bard would like to add, 'You don't need a rain gauge to know that Denton, TX, land that I love, has been swamped swamped swamped with rain for the past month or so.' Poetry cudgeled by reality. Yes, no, you don't need a rain gauge or a weatherman. You just need to walk outdoors and sacrifice yourself to ravenous roughtrade gangclouds of mosquitoes, the new weathermen, working around the clock, and all below scale. Scabs.
At some midway into the recent deluges I really started to miss the drought, and said so, shaking my impotent fist at the benign indifference of the empty big sky. Mrs. Melody suggested sharply that that was an inappropriate response, so I quit talking about it, at least out loud. And now we live in a conflicted state of things green and muddy, shady and mosquitoed, cooler and warmer, windier and stiller. Mixed blessings all, but the late spring/early summer is off to a shaky irregular nontraditional unseasonably inconsistent start. No wonder they call it the One Star State.
The weather, what? I got bigger fish to fry here, and so the helluvit is is that I really need to let you know about several upcoming Little Jack Melody gigs. You're invited to all but one of them, unless someone has personally sent you an invitation to that one. But I'm personally inviting you to the rest, take it from me.
Chronologically, not alphabetically, to wit:
July 10, a private party in Dallas. I can't give you any specifics, private being private, but I'm mentioning this as a friendly reminder that Little Jack Melody and his Young Turks are open for business and available for your private events. Wedding reception? Anniversary party? Divorce celebration? Significant birthday party? Insignificant too? Festival appearance, office party, convention, art opening? You name it, we're up for it. Don't hesitate to get in touch- you can always reach me with a click on the "contact" link over/up there to the left. And thanks in advance for thinking of us.
July 17, the Dallas Museum of Art. It's the third Friday of the month and July's iteration of the DMA's remarkable Late Nights series. We'll be playing in the Atrium there, starting at 8:00 pm, until about 9:00. DMA official verbiage here:
Join us on the third Friday of each month, when the Museum is open until midnight. Each Late Night offers hundreds of experiences for visitors of all ages with performances, concerts, readings, film screenings, tours, family programs, and more! And here's a teaser video from the DMA to set the hook:
https://youtu.be/XkZK-A0fxFs
It's always a great time- the most fun you can have on a Friday night anywhere.
And PS, it's worth mentioning that the DMA gig will mark the public return of tuba into the LJM ensemble. Simon Willats is a tubist-euphoniumist/trombonist-bass trombonist of the first order, and we're very excited to have him on board. Expect also Brad Williams, keys,Dave Monsch, reeds, and the great Dennis Durick on drums. Dennis hasn't played with us in several years now, but as badass drummers go, he's BADASS. I know you already knew that.
Saturday, August 8, Westside Unitarian Universalist Church, Fort Worth. http://www.westsideuu.org/wp/ It's been quite awhile since we've played a church of any stripe, and we're really looking forward to this one. The Evenings at Westside series is one of the coolest gigs anywhere in the area, consistently presenting the intriguing-est musical and otherwise acts around. An excerpt here from its website's "About Us":
Evenings at Westside is a new performing-arts venue located just south of Magnolia in Fort Worth. Enthusiastically hosted by the Westside Unitarian Universalist Church, Evenings at Westside aims to showcase local, original, and above all, interesting artists and works.

We don't look for artists that fit a certain mold; we look for performers who are breaking new ground, and producing experimental, thoughtful, and challenging work. We feature musicians, but also actors, poets, and other performing artists.

One Saturday a month, we give local performers a space to try out new ideas, to connect to new audiences, and to shine a little brighter in Fort Worth's crowded arts scene. We give the community a chance to see up-and-coming performers in an intimate setting. And it's our hope that doing so will make Fort Worth, and the Metroplex, a more interesting and exciting place to live.
We'll be playing two sets between 7 and 9 pm, and on this occasion featuring the deliciously Chopper Bergeron on drums, Young Turk emeritus, helluvaguy and hugetalented. The venue is located at 901 Page Ave, Fort Worth, Texas 76110. More details at the website above.
Friday, August 28, Dan's Silverleaf, Denton. This gig promises to be another good one, as we headline on a tripartite bill along with Warren Jackson Hearne and Will Frenkel. This will be our first chance to stage-share with these singular talents, and it's long overdue. Learn more at warrenjacksonhearne.bandcamp.com
That's it for now, but more updating will be happening. And Christmas is just around the corner. Just sayn.
Best to all, and even more best,
LITTLE JACK MELODY
Denton, TX